Post by Phoenix Jameson on May 5, 2011 0:20:49 GMT -6
Adrianna "Phoenix" Jameson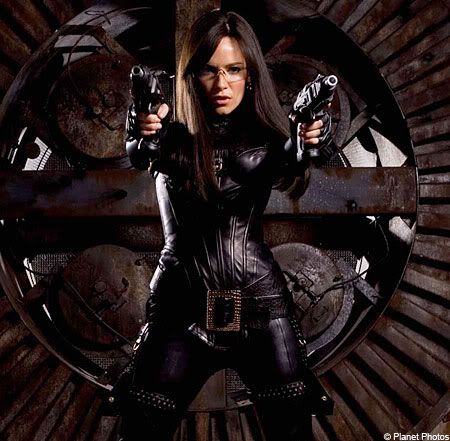 There's a fire starting in my heart,
Reaching a fever pitch and it's bringing me out the dark,

Finally, I can see you crystal clear,
Go ahead and sell me out and a I'll lay your ship bare,
See how I'll leave with every piece of you,
Don't underestimate the things that I will do,

There's a fire starting in my heart,
Reaching a fever pitch and it's bringing me out the dark,
Full Name:
Adrianna "Phoenix" Jameson
Nicknames:
Phoenix, Nix
Physical Age:
28
Date of Birth:
September 1, 1982
Hometown:
Washington, DC
Current Residence:
Wherever the Job Takes Her
Occupation:
Secret Government Operations
Relationship Status:
Single
Character Type:
Unique/Ley Line Witch/Enhanced Abilities and Training
Affiliations:
Good
Gender:
Female
Hair:
Very Dark Brown
Eyes:
Blue
Height:
5'5"
Weight:
110 lbs
Body Type:
slender, toned.
Best Feature:
Her dark hair makes her blue eyes stand out
Worst Feature:
You tell me?
Sexuality:
Straight
Personal Style:
Depending on the situation she can wear anything from a fancy evening gown to combat fatigues. Normally she has very dark brown hair but she does sometimes like to go blond, just to change it up. She usually wears it long and straight so that is flows around her shoulders.
As she grew up in Washington, DC and her father was a prominent scientist for the government, she has had to attend many a black tie function. Cocktail dresses, gowns, heels and all the accessories that go with them are in her closet at home. Not that she gets to spend a lot of time at home.
Since she has started to work in the special/black ops arena her clothing has run to the opposite end of the DC socialite. Lots of black, cargo pants, tank tops, fatigues, or leather jumpsuits are the norm. She likes to wear her long black leather coat to cover up all the military "accessories" she wears underneath.
In her off time, when she has it, she does like to wear dress comfortable. Comfortable doesn't mean sloppy though. She like jeans and t-shirts, sweaters, camisoles, and depending on the weather, anything from sandals to boots for foot wear. Everything is always well fitted.
Face Claim:
Sienna Miller
Abilities:
She is a natural born Ley Line Witch and draws her power the earth and energy around her. She has also been enhanced by the government experiments her father put her through. Faster, stronger, smarter, better reflexes and a much faster healing ability than a normal human are some of the enhancements.
Along with the enhancements she has been through special enhanced training and is an expert in many fighting tactics. Phoenix is well versed in several forms of martial arts as well as multiple weapons. Anything from edged weapons like; knives, swords, throwing stars, to firearms and other 'special' tools she has in her arsenal.
Personality:
Phoenix is highly intelligent, well above the genius level. Her years of being poked and prodded by government scientists have not only given her additional special abilities but it has also honed her personality.
Under pressure she calm and cool. Nothing rattles her. Her mind is always thinking ahead, calculating the next move. She's focused and strong willed. If you need a tough job done, she's your girl.
Don't let her ability to stay calm fool you. She does have a wicked temper and you don't want to get on her bad side. Just because she can stay in control under pressure, doesn't mean she doesn't have emotions or doesn't let them show. She's just acutely aware that in the middle of a fire fight is not the time to break down into tears.
Likes:
(At least 4)
•
Chocolate
•
Making Deals
•
Kicking a Little Ass
•
Brain Teasers/Puzzles
Dislikes:
(At least 4)
•
Slobs
•
Ignorant People
•
People Who Talk But Don't Know What They're Talking About
•
Fake People
Strengths:
(At least 4)
•
Her Magical Abilities
•
Harvard Education
•
Political Connections
•
Diplomatic Abilities
Weaknesses:
(At least 4)
•
Can Be Stubborn
•
Temper Can Bite Her in the Ass
•
Over Things/Analyzes Everything
•
People Who Use Magical Gifts For Dark Means
Mother:
Catherine Jameson (adopted)
Father:
Dr. Gregory Jameson (adopted)
Siblings:
Coulter Jameson (adopted brother)
Others:
General Douglas, Great Uncle
Bio:
Phoenix was born the daughter of a woman with unique and strange abilities. The mother was discovered by Dr. Gregory Jameson and brought into a government program that tried to figure out how her abilities worked. The young woman was already pregnant at the time. The biological mother of Phoenix died in child birth, in a secret government lab.
With an orphaned infant girl, Dr. Jameson decided it was a blessing that was meant to be. His own wife was unable to have any more children after their son Coulter was born, so adopting the baby girl was a natural fit.
This also brought on the opportunity of a lifetime for Dr. Jameson. He was able to observe the daughter from birth. Looking for signs that she had inherited any of her biological mother's abilities. The emergence of these abilities didn't take long.
Phoenix's childhood went something like this: She played, she grew, she had tests run on her. More playing, more growing and more test and experiments. All of this was done without the knowledge of Dr. Jameson's wife.
The first thing was discovered was that her brain capacity and activity level were much higher than any normal human that Dr. Jameson had ever seen. To capitalize on this, she was tutored and given tasks to complete that would help her learn quickly, utilizing and helping her intellectual powers grow rapidly.
Besides her extremely high intelligence level, there were other manifestations of abilities that fascinated the doctor. As an infant, she was originally thought to have telekinetic abilities. She could make objects move with her mind. Still just an infant she could make a toy from across the room fly through the air and into her hand. The scientist was soon to learn that it was much more than that.
With more testing and experimenting it was discovered that the little girl had a magical ability to tap into different lines in the earth. These lines were called Ley Lines. Invisible to normal human vision. They run almost like earthquake fault lines all around the earth. They are everywhere and they provide a tremendous source of power for anyone who can manipulate their energy. For Phoenix, it was as easy as breathing.
As she got older, the experimentation continued and progressed. Her training started to include strategy and political dealings. When she was fifteen, her father brought his findings to the attention of the pentagon. It was then she was "officially" taken into the government system.
Brought into another secret government agency and facility she started to learn things like negotiation tactics, dealing with terrorist situations and things of that nature. She shadowed veteran agents on diplomatic and covert missions. It wasn't long and by the time she was twenty four she was one of the agencies top agents.
Along the way she was assigned to very sensitive missions. Proving herself again and again as one of the best. On one of these high classified missions she learned of the supernatural world. This was a major turning point in her life. There was some relief to realize she wasn't just some freak in the world, that there were other supernatural beings out there. On the other hand, it was obvious to her now that she had been nothing more than a lab rat to the government.
This was possibly the government's biggest mistake.
Phoenix continued on. Doing her job, going where they told her. Submitting to their tests. Taking out the bad guys as ordered. One day she got an opportunity for a change. She would technically still be in the service of the government, but with a a lot more freedom. There was a special task force being put together to take on the things that go bump in the night. It was a perfect fit for a person with her knowledge and skills.
She jumped at the chance and was soon a member of what was known as Shadow Team.
RP Sample:
Admin OK'd