Post by The Director on Apr 25, 2011 15:19:38 GMT -6
Derek Joshua DeVoux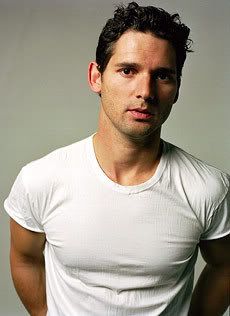 One day we'll drink to this and say
Remember when we died
We went out in flames
Full Name:
Derek Joshua DeVoux
Nicknames:
Wolfman, Wolf
Physical Age:
34
Date of Birth:
April 10, 1975
Hometown:
New Orleans
Current Residence:
New Orleans
Occupation:
Ex military and now a bar owner
Relationship Status:
Taken
Character Type:
Wolf shapeshifter
Affiliations:
Good
Gender:
Male
Hair:
Black
Eyes:
brown
Height:
6'1"
Weight:
210
Body Type:
slender but well toned
Best Feature:
His eyes
Worst Feature:
Sexuality:
Straight
Personal Style:
(Typical clothing style)
Face Claim:
Eric Bana
Abilities:
Can shift at will and is extremely good and slipping up on things. He has supernatural strength and ability to smell and hear.
Derek is an ex army ranger. He did military time in the army and was special ops.
Personality:
Rough, tough and always on the prowl, Derek is very much in touch with is inner wolf. To those he considers family, he is loyal to the death and treats everyone under his wing as a pack mate. Long and lean, he is trained in military tactics and politics so hes able to keep his thoughts hidden until he wishs you to know them. No ones fool, he doesn't suffer those types either and demands absolute fedality from those around him. Stubborn and honest to a fault, he believes in letting everyone know where they stand with him.
Likes:
(At least 4)
•
Rock music
•
Weapons
•
Fast cars and bikes
•
Lani Moonblood
Dislikes:
(At least 4)
•
Stupid people
•
cruelty to women or animals
•
liars
•
Cheats
Strengths:
(At least 4)
•
Organized
•
Capable of handling his own business.
•
Smart
•
Trained in military tactics.
Weaknesses:
(At least 4)
•
Lani Moonblood
•
Silver, pure in any form
•
Kids
•
temper
Mother:
Arabella DeVoux
Father:
Caleb DeVoux
Siblings:
none
Others:
none
Bio:
Derek was born to a pack of shifters in the Louisanna area. Due to the fact that supernaturals were considered "normal" in the culture, he and his family were able to fly under low radar and he grew up in the bayous of the state. When he first shifted about the age of 12, he knew that he would be more powerful than most in his line and immediately began to train himself to be better than others. Pushing himself to extremes, it wasn't any suprise to anyone when he enlisted in the army fresh out of high school and went on to ace the exams for special ops hands down.
From there, he spent 2 tours in and out of third world countries and serving his nation. Due to his shifting abilities, he was assigned to a very rare, very classified sector and sent on very top secret missions. After several close calls and being wounded badly, he was honerably discharged and retreated to the bayous to heal and regain some humanity.
His first step in a normal life was the purchase of the Wolf's Den. After naming the bar, he got a chuckle out of the joke and then meet and hired Sibeal Montgomery as his lead dancer and comanager. Since that time, he's run his business while keeping a semi low profile. Once in awhile he disappears on missions but generally can be found in New Orleans.
RP Sample:
(MUST BE A DECENT LENGTH!)