Post by The Director on Apr 25, 2011 15:00:57 GMT -6
Curse Jordan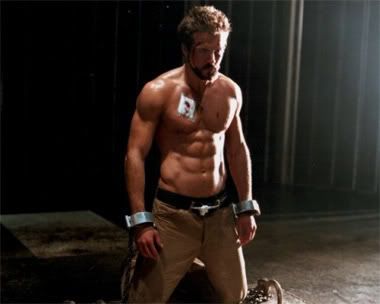 Get your motor runnin',
Head out on the highway.
We're lookin' for adventure,
And whatever comes our way
Full Name:
Gabriel "Curse" Jordan
Nicknames:
Curse
Physical Age:
33
Date of Birth:
Sept 22
Hometown:
Canyon Tx
Current Residence:
Where ever the job is.
Occupation:
Mercenary/soldier of fortune
Relationship Status:
Single and loving it!
Character Type:
Human
Affiliations:
Lawful Good
Gender:
Male
Hair:
dirty blond
Eyes:
green
Height:
6'
Weight:
200lbs
Body Type:
athletic and buff
Best Feature:
his smirk
Worst Feature:
Does he have one?
Sexuality:
Straight as the day is long
Personal Style:
He like anything comfortable and boots.
Face Claim:
Ryan Reynolds
Abilities:
He's currently human and as bad ass as they come. Special Ops trained and highly intelligent.
Personality:
Curse is a very charming young man who can either be your best friend or your worst enemy. His smile hides an intelligent mind and he is very observant. Although he plays fast and loose with the women, he's not the type that leaves them expecting more the next morning and makes no secret about his thoughts and opinions. He calls things as he sees them and very seldom changes his path course once set.
Likes:
(At least 4)
•
Nintendo Games
•
Country Music
•
Pretty women
•
any and all kinds of weapons
Dislikes:
(At least 4)
•
Frou Frou drinks
•
Scorpions, hates those sons of bitchs with a passion
•
Vampires
•
classical music
Strengths:
(At least 4)
•
Bad ass fighter
•
Special Ops trained
•
Highly intelligent
•
thinks fast on feet
Weaknesses:
(At least 4)
•
Tempermental
•
a tad arrogant
•
got a sarcastic wit
•
a bit of a drunk
Mother:
Elizabeth Jordan
Father:
Charles Jordan
Siblings:
Lizzie Jordan
Others:
None
Bio:
Born to a middle class, average family, Curse grew up on a west Texas ranch roping cows and riding broncs. Nothing out of the ordinary happened to turn him one way or another. His first 18 years were those of a normal kid until he enlisted in the military and was sent over seas.
While enlisted, he proved himself to be the best of the best and made the Navy Seals in no time. Under cover of special ops, he learned to track, spy and kill all without a glimmer of detection. During his service, he learned that everything in the world wasn't what most people though. Forced to keep his knowledge to himself, he grew colder and more reserved until he finally was able to flip an emotional switch on what was right and what was wrong.
After 8 years of living hell, he hung up his uniform and headed home to find his little sister missing and his family dead. During his tour of duty, his father had suffered a mysterious illness and had then gone insane, shooting his mother to death. Due to his being out of radio contact, he hadn't even been there to attend the funeral but once he was back, he started digging for answers. What he found gave him chills. He began to suspect someone or something of causing his fathers illness and his mothers murder. And whatever it was involved his missing sister.
Taking to the road to find the missing pieces to the puzzle, Curse took up gigs and assignments to pay his way. Best prey your never on his list of jobs to fulfill.
RP Sample:
Admin OK'd