Post by Emile Avaant on Apr 30, 2011 15:29:14 GMT -6
Emile Avaant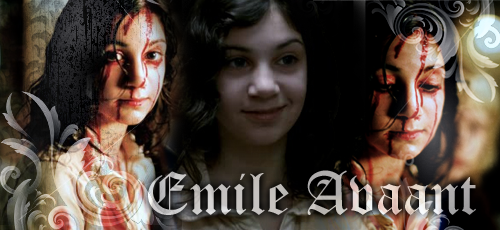 Full Name:
Emile Avaant
Nicknames:
Emi/Em
Physical Age:
Fifteen
Date of Birth:
5/6/1995
Hometown:
London
Current Residence:
Los Angeles
Occupation:
Student
Relationship Status:
Single
Character Type:
Cerberus Shifter
Affiliations:
Chaotic Good
Gender:
Male
Hair:
Black, shoulder length
Eyes:
Blue
Height:
5'3 (Human) 38 Inches (Cerberus)
Weight:
10 Stone (Human) 102 Pounds (Cerberus)
Body Type:
Small and petite – could pass for a girl
Best Feature:
Eyes
Worst Feature:
Height
Sexuality:
Bisexual
Personal Style:
Usually just standard teenager gear, hoodie, ect. However he does on occasion cross dress because he can pull it off.
Face Claim:
Lina leanderrson
Abilities:
Can Shapeshift into a large hairless canine about the size of a wolf. Large, heavyset jaws and glowing red eyes in this form, in addition to a set of horns pointing from the back of the skull. Body shape resembles a Rottweiler more than anything else. Can communicate via telepathy in this form.
(See Picture above)
Personality:
Emile is kind and caring, but hot headed and very opinionated in things he believes in. He does have a vicious side but this rarely comes out unless he's exposed to ALOT of blood. He has a short temper too but, again, this rarely shows. At most other times he's shy and quiet around others.
He also dislikes being single but, as of yet, not much can be done about that just yet. He likes making friends but nothing really comes of this. When he's in his canine form however, his personality changes a little. When he's hungry, he hunts, regardless of species. Also, around other dogs that aren't shifters he has EXTREME dominance issues. He'll get very aggressive towards them to the point of killing them if not put in check - this goes for strangers to an extent.
Likes:
(At least 4)
•
Making Friends
•
Relaxing
•
Reading
•
Hunting
Dislikes:
(At least 4)
•
Violence
•
Some Humans
•
Other Dogs (dominance issues)
•
Being hurt
Strengths:
(At least 4)
•
Shapeshifting
•
Generally Fearless
•
Kindness
•
Quick Witted
Weaknesses:
(At least 4)
•
Still young
•
His dominance issues
•
Dislikes being Alone alot
•
Fear of people he loves dying
Mother:
Unknown
Father:
Unknown
Siblings:
None
Others:
Others
Bio:
Emile is not unique so far as his species go. No, his bloodline of Shifter was bred, unsurprisingly, to be guards for higher members of the supernatural community. Unsurprisingly it was not exactly the nicest process but the result where very large, very imposing Daemonic Hellhound like dogs that where vicious guards and did not tolerate being lessers to any other canine outside of their own species.
Emile himself was sold to a rather rich Werewolf from the site in London to America early on in his life. He served rather well but, unlike his brothers and sisters he was not naturally vicious and cruel, but detested other canines which the Were found good enough to keep him around for the high price he was sold for. Unfortunately the Werewolf died upon a full moon and Emile escaped the house and grew up rough on the streets for several years until he was taken into an orphanage and raised to be more human - yet several of those traits remain even to this day.
The Orphanage burned down, however, and Emile - now fourteen - landed himself back on the streets where he has lived for the past year, alone and quite scared of this new world. He was, funnily enough, picked up by the pound when out in his dog form once, or they tried. Soon realizing he wasn't a normal dog, they ran for their lives.
RP Sample:
The snow parted as something silently ghosted through it with grace unmatched by anything human, each movement placed with pinpoint precision so as to make little sound as possible. Though it was still a fair distance away from the target, there was no sense in being careful. If the Lictor could rationalise this, those would have been its thoughts. But instead, all of this was instinctual, like how a child knows how to breathe immediately. It did not need any training, for the Hive Mind had crafted its form perfectly for the roll required.
However, despite being the perfect form, it was not without flaws. Its design at base had not been changed but to combat the extreme cold and snow it had been outfitted with a thick layer of fat to keep it insulated. However, it needed to feed often to replenish this and naturally keep it as active in this harsh environment. It was not a great challenge, for the Hive Mind had faced worlds such as this a thousand times before – it was a simple matter of passing the required genetic information to the Norn Queen of Hive Fleet Gemini.
The Lictor had landed on the planet a few weeks ago under the guise of a meteor shower, and was left much to its own devices on how to complete the mission – to transmit the outlay of the planet and the prey's defences. Not a particularly hard task at a basic level, yet it did present a set of challenges. Gaining entry and staying undetected where but two, but the Tyranid could not doubt itself – quite literally, it had no concept of doubt. The native fauna had not proved much of a challenge and provided a source of nourishment. So far, of the target prey it had only seen two armoured vehicles but did not engage them, simply studying and relaying back to the Hive Mind.
Though it was tough to filter information from the brains of certain fauna, the Lictor had managed to disconcert the location of the target, from a distance. It now crouched in a patch of trees opposite a sheer rock face that extended far above where the Lictor now stood. It naturally sought high ground as a vantage point and it knew the target was also far above its own elevation.
Stalking from where it was crouched the large creature crossed the clearing in a few short moments and extended the barbs in its chest. The hooks dug into the rock face of the cliff and slowly, it began to haul itself up the side, using its large claws for support.