Post by Lillie Galleau on Jul 18, 2011 11:45:07 GMT -6
Lillian Abaline Galleau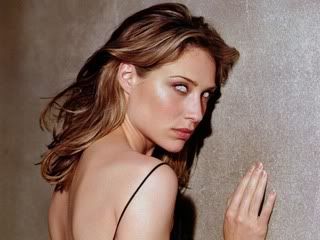 "And it's good old country comfort in my bones
It's the sweetest sound these ears have ever known
It's just an old-fashioned feeling fully-grown
Country comfort and a truck that's goin' back home
Oh it's goin' back home"
Full Name: Lillian Abaline Galleau
Nicknames: Lillie, Lil, 'Rachel Beaumont' (alias)
Physical Age: 29
Date of Birth: November 2nd
Hometown: New Orleans, Louisiana
Current Residence: Hollywood, California
Occupation: Co-owner of the Head in the Clouds Gallery
Relationship Status: Very much in love with a certain dragon shifter.
Character Type: Human
Affiliations: Good
Face Claim: Claire Forlani
Gender: Female
Hair: Wavy, sandy brown hair that never fails to fall into her face and make her sneeze.
Eyes: Once glazed by silver, her eyes are now a vibrant blue.
Height: 5'3"
Weight: 135lb
Body Type: Slim and athletic, most of her strength is in her arms and hands. Jokingly, Lillie likes to say that she has the handshake of an ex-con.
At the moment, however, she's slowly becoming the 'size of a beached whale,' thanks to her pregnant status.
Best Feature: Her optimism. Though life has dealt her a very hard hand, she is always sunny and smiling.
Worst Feature: Her self confidence. She becomes easily anxious while around strangers and is self conscious about her eyes.
Sexuality: Only thinks about one man, at the moment.

Personality:
About as nice as they come, Lillie tends to come off as a mother hen who worries more about everyone else than she does herself. While she tries to act tough around clients, claiming that, if not for them, she'd be lounging on a beach somewhere with a fruity drink in her hand, she's as stuck in the life…and is quite happy about it. While she dislikes fighting, she also has a very random vindictive streak. While it does not get a lot of air-time, when the fire is lit, one should prepare to be burned.
While she can be clinical at times, and has more trouble understanding her emotions than a two year old, she's a compassionate, loyal and quite intelligent soul, who loves kicking back with a beer as much as working on her paintings.
Abilities:
From childhood, Lillie has been gifted with the ability to paint beautiful pictures of what she sees, dreams and, in some cases, feels. But now, quite oddly, that her eyes no longer allow her to see, she still finds herself covered in paint and sitting in front of her canvas. Her friends and outside critics claim that her depictions of foreign landscapes filled with fantastical beasts and horrible monsters are figments of her imagination...but how could a blind woman paint such things?
Personal Style:
(Typical clothing style)
Likes: (At least 4)
• Country music
• Not being stared at
• Spending time with her family, including her 'baby daddy and future baby'
• Painting

Dislikes: (At least 4)
• Loud, unnecessary noises
• The fact she's unsure how long her sight will be with her
• Coffee
• The sensation of being stared at
Strengths: (At least 4)
• Is a good listener
• Loyal to a fault
• Very forgiving
• Always tries to find the good in people

Weaknesses: (At least 4)
• Her family – she would probably break down, if she lost the ones she loved.
• Her 'love dragon'
• Her sometimes lack of self confidence
• The need to paint the images she dreams

Mother:
Jane Galleau, deceased
Father:
Harry Galleau, deceased
Siblings:
Patrick Galleu, Joe Galleau, Nicky Galleu, Tomas Galleu, Bobby Galleau
Others:
Ilani Moonblood, best friend
Kyle Aodhagan, fiancé
Bio:
For the past four generations, there have been Galleaus living in New Orleans. Originally hailing from Ireland, the family is known for its argumentative, dare devil blood and its hot headed offspring. Generations upon generations of adrenaline junkies, danger fanatics and extreme sports participants have graced the city with their own version of the word 'fun,' making them legendary amongst the young crowds of today.
And then came Lillian Galleau, also known as 'Lost Little Lillie.' From the day she was born, the youngest Galleau to grace New Orleans has been a kind and gentle soul. Where her brothers loved to gallavant around the swamps and bayous, looking for gators and other crazy adventures, Lillie was content to stay at home, drawing pictures in her little notebook. Her older brothers became her most stalwart protectors, especially her eldest brother, Pat. Seeing her sweetness as a weakness in the wide, harsh world, Lillie was forced to lead a relatively sheltered life...not that she minded.
If Lillie had her way, she would have learned everything from books and stayed within her little bubble of comfort. What else could a girl want, other than a loving family, a memory-laden home and a set of paintbrushes? She was content and happy with her quiet life.
It's really too bad that it's during such times that Change likes to strike the hardest.
It was the winter of 1992 and a 13 year old Lillie had come down with a very high fever. Her parents, fearing for her life, decided to brave the storm-laden roads to bring her to the hospital. The roads were filled with icy rain and Lillie's father had trouble seeing. They drove slowly, mindful of their whimpering cargo in the backseat, but it wasn't enough. With one turn on the winding road, the car slid and was forced down an incline. Over and over, the little Volkswagon beatle rolled, until finally reaching the cold waters below.
Lillie does not remember much of this day, before or after the accident that took her parents' life. According to newspaper clippings and police reports, a trucker whose window was down heard a high pitched wailing over the rain. Stopping at the side of the road, he noticed a guard rail down and hurried into the water to help the poor motorists trapped below. Lillie lay unconcious on the bank of the swamp, supposedly having been pulled out of the car by her father. Investigators deduced that Mr. Galleau had swam his daughter to safety, before returning to the car for his wife. Unfortunately, the exersion was too much, and he drowned alongside her.
Lillie was rushed to the hospital. Her face had been severely ravaged by the car's broken windows, and both of her legs had been broken. The doctors predicted that she would never awake. Her siblings, devastated at the news of their parents' death, surrounded their wounded sister and laid seige to the hospital. Specialists among specialists were brought in, tests were run and procedures taken.
For almost a year, Lillie lay unconcious in the hospital bed and, according to Pat, it was through her brothers' insistance, that she finally woke up. But, as she would later admit, she wished that she had not.
The glass that had scarred her face had also torn through the once emerald green eyes that had provided her with her art. Instead of waking to the smiling faces of her brothers and sisters, she awoke to darkness...and it was in darkness that she would remain.
However, despite all of this, Lillie never showed any sadness. With an abandon that baffled her family, she attended a School for the Blind, graduated top of her class and pursued a career as a gallery owner. Joe, ever the protective brother, tried everything he could think of to make her live in the safe confines of his home, but Lillie was determined to live her own life.
Now, nineteen years later, Lillie Galleau owns one of New Orleans' most successful art galleries. Head in the Clouds sells an array of artwork, from the magestically green terrain of Ireland and the surrounding wildlife, to the almost mystical scenes of fairy lands and bloody battles. The locals believe that there is a hermetic painter by the name of Rachel Beaumont who paints the widely acclaimed pieces...but they would be wrong.
While Lillie had lost her eyesight, she had gained something else. Images of far away lands, different times and a multitude of different people seem to run rampant in her head. Though she cannot see what she is painting, or the canvas in front of her, the result is always the same, when the urge to create comes upon her. She has never really warmed up to her gifts, given that most of the scenes she paints are depictions of bloody battles and terrifying monsters...but she had to hand it to the dream-visions; they are what led her to the love of her life.
Currently, Lillie lives in Hollywood with her fiance. It's said that she is the reincarnation of his first wife, and given the memories that come randomly to her, she's inclined to accept that fact. All she really knows, is that she's Lillie Galleau; gallery owner, soon to be mother and loving wife.
And God help anyone who comes near her family and tries to change any of that.
RP Sample:
You know meh. ;3
My name is
NINJA
. I'm
ETERNAL
and I play
THE CHARACTER BROOD OF DOOM
. I'd like to say
MWAHA. MWAHAHAHA
! This is all!