Post by Lt. Kalii "Slayer" Duran on Apr 27, 2011 3:05:38 GMT -6
Kalii Jaxleigh Duran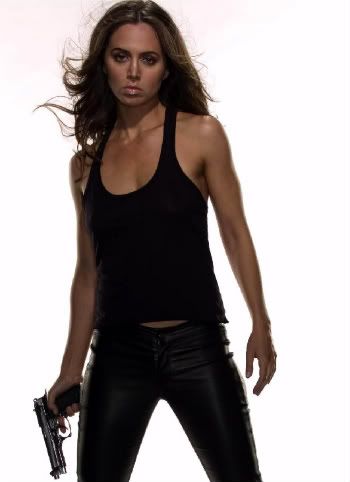 Yeah, I get it, you're an outcast
Always under attack, always coming in last
Bringing up the past, no one owes you anything
I think you need a shotgun blast, a kick in the ass
So paranoid, watch your back

Oh my, here we go

Another lose cannon gone bi-polar
Slipped down, couldn't get much lower
Quicksand's got no sense of humor
I'm still laughing like hell
Full Name:
Kalii Jaxleigh Duran
Nicknames:
Kal, KJ, Jax, Slayer.
Physical Age:
29
Date of Birth:
December 14, 1980
Hometown:
Boston, Massachusetts
Current Residence:
Wherever the government sends her.
Occupation:
Slayer/Soldier
Relationship Status:
Single
Character Type:
Unique/Special/Enhanced/Slayer/Human
(She was born into the Slayer line)
Affiliations:
(Good; Evil; Neutral) Good
Gender:
Female
Hair:
Brown
Eyes:
Brown
Height:
5'5"
Weight:
125
Body Type:
Athletic
Best Feature:
Her body
Worst Feature:
Her snarky attitude
Sexuality:
Straight/Heterosexual
Personal Style:
Kalii is a chameleon when it comes to her style. As part of the military task force she has to wear military style clothing for their missions. Outside of that she can wear just about anything depending on the circumstances. She is partial to leather, tank tops and boots. But, she also frequently wears t-shirts and jeans. She knows how to dress for the occasion if necessary. It's not her favorite thing in the world to wear a frilly dress but she will if the occasion calls for it. Kalii can rock a short skirt and cropped top like nobody's business though.
Face Claim:
Eliza Dushku
Abilities:
Being born into the Slayer line she naturally has certain abilities:
Enhanced strength, agility, speed, durability, reflexes, and a healing factor.
She also has some psychic abilities attached to this:
Telekinesis – The ability to move things with her mind.
Prophetic dreams and such on occasion. (These are generally connected to supernatural beings that are possibly in the area or will possibly cross her path at some point)
Can sense supernatural beings. (This is NOT a thing where she can pick someone out of a crowd and say "Oh, you're a vampire, you're a werewolf." It's more she can sense that there is something different near by and puts her on alert.)
Genetic enhancements/experiments done by the government:
Because of her natural born abilities she was scooped up by the government/military and they performed experiments on her to try and enhance her, to make her kind of a more super soldier. The enhancements mostly affected:
Increased her healing ability.
Increased her durability.
Increased her stamina. (For example, she can function without as much sleep as normal.)
Other abilities:
Trained by the military and as a Slayer she is proficient in hand to hand combat, various martial arts forms and various weapons, anything from ancient weapons (from Slayer training) like crossbows, knives, stakes, battle axes, etc. to current modern weaponry (from her military training), all kinds of guns, firearms, explosive devices, etc..
Personality:
Kalii is street smart and it shows. She is bold and up front. Kalii is the type to kick ass and ask questions later. Of course as with most people she has another side to her. She can show a bit more of a softer side with certain people in certain situations. Some people she may bond with right off the bat, but others it may take a lot of work to get to know her, some people she may never take too. Once she knows a person and trusts them, then she is loyal and would do anything to protect those close to her. Kalii runs on her emotions and can become very passionate about things both good and bad.
Likes:
(At least 4)
•
Beer and Whiskey (and other alcoholic beverages)
•
Music and Dancing
•
Kicking Ass
•
Weapons (She has several knives and a katana that are her favorites)
•
Her Bike: 2009 Harley 2009 SUPER GLIDE
Dislikes:
(At least 4)
•
Goody Two-Shoes
•
Idiots
•
Evil Beings (Particularly Vampires and Demons)
•
Being Bored
•
Snakes
Strengths:
(At least 4)
•
Has extensive knowledge about the supernatural from being trained as a Slayer and handed down from her Slayer heritage.
•
Her special abilities.
•
Her military and slayer training.
•
Loyalty - To those she trusts, she will do what it takes to protect them.
•
Her ability to focus on the task at hand, especially in a fight.
Weaknesses:
(At least 4)
•
Can be closed off until you get to know her.
•
Revenge can blind her if someone has hurt someone she cares about.
•
Has a fiery temper.
•
Her attitude can sometimes get her into trouble.
Mother:
Dead and doesn't care (her mom was an abusive alcoholic).
Father:
Unknown
Siblings:
None that she knows of.
Others:
Grandfather George Duran who died and left her a small inheritance, though she didn't know him personally.
Bio:
Kalii grew up in the streets of the tough South Boston neighborhoods. She never new her father and her mother was an abusive alcoholic until she died. Because of her difficult childhood she was unaware that she was a potential slayer until she came into power when she turned fifteen.
Shortly after she found out she was a slayer she had to endure the torture and murder of her watcher at the hands of the vampire. This set her on a path that eventually brought her to seek revenge on the vampire. She left the ranks of the watcher's council and went out on her own to hunt evil.
Kalii slays and asks questions later. Kalii's troubled upbringing also causes problems for her and leads to her having a bit of a darker side. She works hard to fight that and throws herself into her duties of fighting evil as both a Slayer and a soldier.
Kalii's proficient in most weapons but she does have a special place in her heart for knives and she is an expert at kicking butt and taking names.
When she was eighteen she was taken in by the government. They knew of her abilities and wanted to see if they could experiment on her to make her a "perfect soldier." This resulted in some of her abilities being increased and also started her working for the military. Although she is still far from perfect, she is a an excellent soldier and was recently assigned to the special task force run by Lt. Commander Katarina Foster (OK'd by Kat).
All her life she didn't know anything about her family. On her twenty-first birthday, she was approached by a lawyer and was told that her grandfather George Duran was a wealthy business man who was the CEO for a major corporation based in Chicago. He had died and left her a small trust fund. She tried to question the lawyer but he had no further information for her. To this day she still doesn't know what happened to her father.
Kalii is by no means rich, but between the trust fund (which is invested) and her military salary she is able to live comfortably when she wants or needs to.
RP Sample:
Admin OK'd